WhatsApp: +212 6 78 33 57 21

See the natural landscape in style at Merzouga and explore the Special Offers in Merzouga by Riad Mamouche Desert Resort near Sahara Dunes, among the finest Merzouga resort hotels to plan the perfect Merzouga holiday.
Discover genuine guest reviews for Hotel Riad Mamouche in Merzouga - welcomes you in a friendly atmosphere with Sahara desert view from comfortable rooms.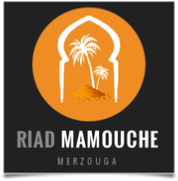 Browse our best selection of desert rooms in Merzouga and contact us directly for daily deals for even more savings! Experience complete comfort in Riad Mamouche. You'll have a comfortable and pleasant stay in our desert accommodation in Sahara.
Enjoy Our Comfortable Merzouga Hotel Rooms at Great Prices. Explore all the best that Merzouga desert has to offer, and rest up before your next adventure in our comfortable hotel rooms with A/C and dinning.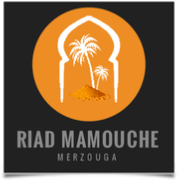 Moha +212 678 33 57 21
Hotel +212 535 57 60 70
Hotel Riad Mamouche is one of best desert hotels in Morocco. Whichever distinctive our desert room you choose, you will enjoy ambient lighting from candles tucked in alcoves around the room. Unwind in style from the comfort of a spacious Merzouga hotel room with views of the stunning garden.
Enjoy stress-free travel and Book at a night at one of our rooms , and contact us for the cheapest last minute hotel deals in Merzouga.



Contact us Now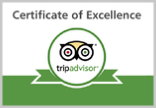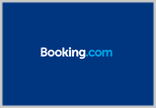 WhatsApp / Phone: +212 6 78 33 57 21
Email: contact@riadmamouche.com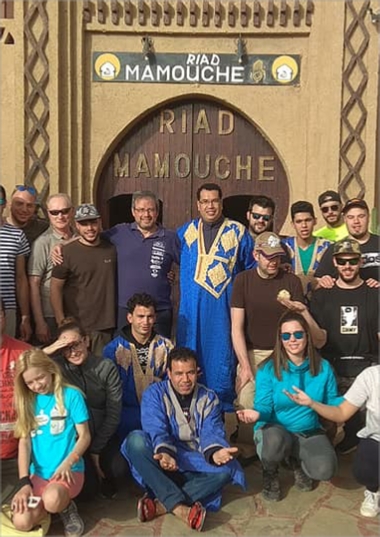 SERVICES BY RIAD MAMOUCHE , MERZOUGA, MOROCCO
Services at the our desert hotel include a free Wifi in every bedroom, 24hr reception and an outdoor swimming pool. The Hotel in Merzouga Desert is equipped with an array of services and facilities to make sure that your stay is perfect at Hassi Labied, Merzouga.
MANY SERVICES INCLUDED IN ROOM RATE FOR YOUR STAY IN MERZOUGA DESERT
Welcome on arrival with complimentary mint tea and introduction to Merzougua with a handy map.
Full Moroccan breakfast of freshly squeezed orange juice, tea or coffee, yogurt, fruit and a selection of bread and crepes with honey and jam.
Complimentary still mineral water, tea and coffee throughout the day.
Concierge service to help book spas, and activities , tourist guides, excursions, taxis, car hire etc.
Free WiFi Internet access.
iPod docking station in each room.
Hair dryer and complimentary toiletries in bathroom.
English speaking manager.
Personal safe in each room.
CD player and selection of CDs in salon.
We organise best Excursion and activities
At your request, we can arrange an exotic, romantic night in a Berber tent, trekking with a camel caravan or for the "adrenaline junkies", 4WD dune bashing, quad cycles or sand boarding. We have something for everyone.
Additional Services
Airport transfers - we can arrange for you to be met by a taxi and brought to the riad. Please book transfers when you reserve your accommodation. 150 euros for 2 people.
Honesty bar - help yourself at any time and simply write down what you have taken.
Lunch - light lunches, omelettes and salads are available by request. 12 euros per person excluding drinks.
Dinner - 3 delicious courses of Moroccan cuisine freshly prepared each day to order. Dinner on evening of arrival should be booked in advance. Thereafter you can reserve for dinner each day at breakfast time. 20 euros per person excluding drinks.
Hammam, massage and beauty treatments - Enjoy a traditional Moroccan hammam, a relaxing massage and a variety of beauty treatments in the comfort of a beautiful riad.
Personal shopping - we can recommend an excellent personal shopper to help you find everything you want at the best prices.

Riad Mamouche's Services:
* Comfortable Merzouga Hotel rooms with Air conditioning.
* Free WiFi in your room, tasty restaurant and terrace area for relax.
* Hotel has 24-hour reception desk.
* Enjoy meals in restaurant with traditional dinner, lunch and breakfast.
* Personal check-in and check-out on request.
* Best Excursions in Merzouga desert including 4x4 tour, camel ride and quad excursion.
Check out Our Rooms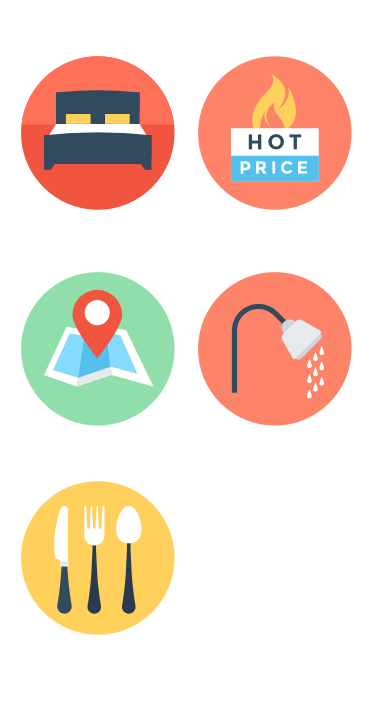 AIRPORT TRANSFERS
We offer private on time airport transfers from Marrakech , Fes , Casablanca or Errachidia airport to Merzouga desert for your amazing desert stay in our hotel.
contact us...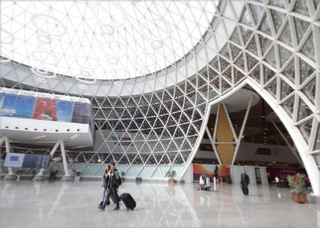 HAMMAM / MASSAGE
We offer an amazing experience in our traditional Moroccan hammam, and a relaxing massage as a beauty treatments in the comfort of a desert riad in Hassi Labied.
contact us...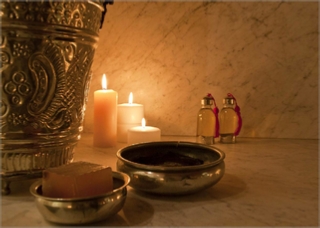 RESTAURANT FOR YOU
We offer pleasure with our traditional cuisine in hotel restaurant near swimming pool. Our restaurant promises a delicious meal for your best experience.
contact us...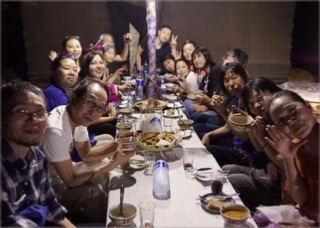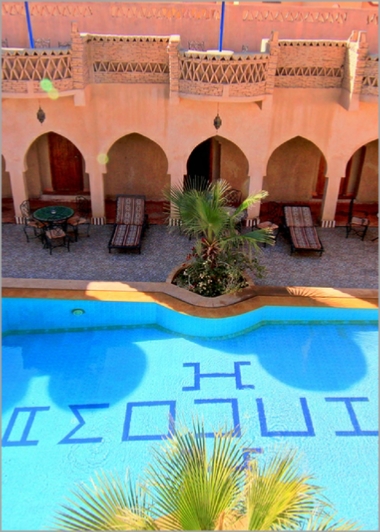 MERZOUGA HOTEL WITH SWIMMING POOL
Hotel Riad Mamouche has a large swimming pool for all clients.